Randall Park
Randall Park is an actor and writer who is fast becoming one of the freshest and most in-demand faces in Hollywood with his extraordinarily diverse skill set and wide-ranging background in both film and television. Park stars in ABC's hit comedy series Fresh Off The Boat, which just announced its third season.  On the big screen, Park recently appeared in Trainwreck, directed by Judd Apatow, The Interview and the box-office hit, Neighbors.  * Due to a scheduling conflict, Randall Park will accept his award and share his story on video.
Hooni Kim
Hooni Kim is a French Culinary trained chef who opened his first restaurant, Danji, in 2010 with accolades from numerous publications.  In 2012, Danji was the first ever Korean restaurant to receive a Michelin star.  Chef Hooni's second restaurant, Hanjan, was listed as #5 of the best new restaurants of 2013 by The New York Times and he was heralded as "the city's leading interpreter of Korean cuisine."  He is currently a judge in South Korea's MasterChef Korea and also appeared on Food Network's Chopped.
Aiyoung Choi

Aiyoung Choi was born in Korea, and grew up in Shanghai, Taiwan, and Tokyo.  She moved to NYC in 1963 and was a working mother who had a range of positions in entrepreneurship, publishing, teaching, public relations, and human resource management.  All the while she developed a second career in public service through her advocacy and activism for human rights, ​justice,​ ​and world peace. Aiyoung now ​work​s as a consultant ​helping ​to increase board and organizational effectiveness for ​​nonprofits.
Emcee: Vivian Lee
Vivian Lee joined NY1 as an anchor and reporter in 2008.  Vivian's career in New York started at WNBC in 2002, where she was a general assignment reporter for six years.  She was born in Toronto, after her parents emigrated from Seoul.  She graduated with honors from Carleton University's prestigious Journalism program in Ottawa. She now lives in New York City with her husband and daughter.
Awkwafina
Awkwafina aka Nora Lum is a rapper, comedian, TV personality, actress and whale enthusiast. She was born in Queens, NY where she attended Laguardia High school for the arts as a trumpet major. Her music career started with a video called My Vag, which went viral on YouTube and was praised by many as a modern day feminist anthem. She is currently on MTVs Girl Code and will be appearing in her first two films, Neighbors 2 and Dude, this spring. She currently resides in Brooklyn.
---
 FOR TICKETS AND INFORMATION USE TABS ABOVE
---
KoreanAmericanStory.org 6th Annual Gala
Tuesday May 3th 2016
Tribeca 360
10 Desbrosses Street, New York
6-10 pm
6-7 pm

    Cocktail hour
7-10 pm

  Dinner, awards ceremony, special music performance, live auction
A night to remember with special music, and stories from amazing Trailblazers from our community.
---
SPONSORSHIP
---
$10,000 Platinum
Premier placement of one table of 10 seats, recognition in the printed and online materials, full page ad in premium location of the program if purchased by April 15th, 2016, special recognition from the podium during the event.
[eventButton id="19″]Platinum Sponsor[/eventButton]
 $5,000 Gold
Prominent placement of one table of 10 seats, recognition in the printed and online materials, full page ad in the program if purchased by April 15th, 2016
[eventButton id="18″]Gold Sponsor[/eventButton]
  $3,500 Silver
Choice placement of one table of 10 seats, recognition in the printed and online materials, half page ad in the program if purchased by April 15th, 2016
[eventButton id="17″]Silver Sponsor[/eventButton]
---
TICKETS
---
$500 Patron Ticket
One choice seat at the Gala, name listing in the journal if purchased by April 15th, 2016
[eventButton id="15″]Get $500 Ticket[/eventButton]
$350 Friends Ticket
One seat at the Gala, name listing in the journal if purchased by April 15th, 2016
[eventButton id="14″]Get $350 Ticket[/eventButton]
Contribution
If you cannot attend, but wish to make a fully tax-deductible contribution
[eventButton id="16″]Donate[/eventButton]
Please contact HJ Lee (hj@KoreanAmericanStory.org) for nonprofit rate
$1,000 Full Page
5″W x 8″H
[eventButton id="9″]Buy Full Page[/eventButton]
$600 Half Page
4.75″W x 3.25″H
[eventButton id="10″]Buy Half Page[/eventButton]
$350 Quarter Page
2.25″W x 3.25″H
[eventButton id="11″]Buy Quarter Page[/eventButton]
Formats accepted
High resolution (300 dpi) JPEG/TIFF
Submit art files to hj@KoreanAmericaStory.org no later than April 15th, 2016.
LIVE AUCTION ITEMS
Dinner & Wine Pairing for 4 people at Piora Restaurant with Randall Park
4 lucky winners will have a chance to wine and dine with Randall Park at a Michelin Star restaurant, Piora.
Piora is the collaboration between proprietor Simon Kim and Chef Christopher Cipollone that is a Modern American Restaurant with Italian, French and subtle Korean influences. It reflects their passion for creating dining experiences that are refined yet unexpected. Cipollone's delicately presented Modern American dishes capture the robust flavors of the season's ingredients. Composed by Sommelier Victoria James, Piora's 300 label wine list is constantly evolving with a concentration in small production wines from primarily France, Italy and United States. Nestled in the West Village on Hudson Street, Piora's intimate dining room, featuring leather tables and unpolished marble, overlooks a serene private garden.
The West Village's impossibly quaint charm gets even more charming with an elegant dinner for two at beautiful Piora. The setting is polished, upscale and cozy, with a marble bar up front teeming with well-heeled beauties sipping cocktails; and a sleek white dining room in the back, featuring a stunning wall of glass overlooking a lush urban garden. It's a soothing experience from the start, a chance to sit back and sink into a perfectly prepared drink (don't miss the creative libations) and let the hustle of the city slough off as you consider the neighborhood's manicured charms. The polished staff together with elegantly prepared and very contemporary cuisine-carefully presented and borrowing from the many influences of Piora's Korean-born owner and Italian-American chef-only seal the deal. Take the perfectly al dente rigatoni, plated with savory crumbles of ground lamb-and-pork sausage and laced with dollops of bright green nettle pesto, jalapeño slivers, and shaved pecorino; or a beautifully prepared Four Story Hill Farm poularde, rendered to juicy, crispy perfection, and garnished with tawny sweet potato, pickled mustard seeds, tender Brussels sprouts, and foie gras foam.
Starting bid: $1,500 (does not include tax or gratuity)
Courtesy of Randall Park and Simon Kim
3 Course Dinner and Wine Pairing for 4 People with Hooni Kim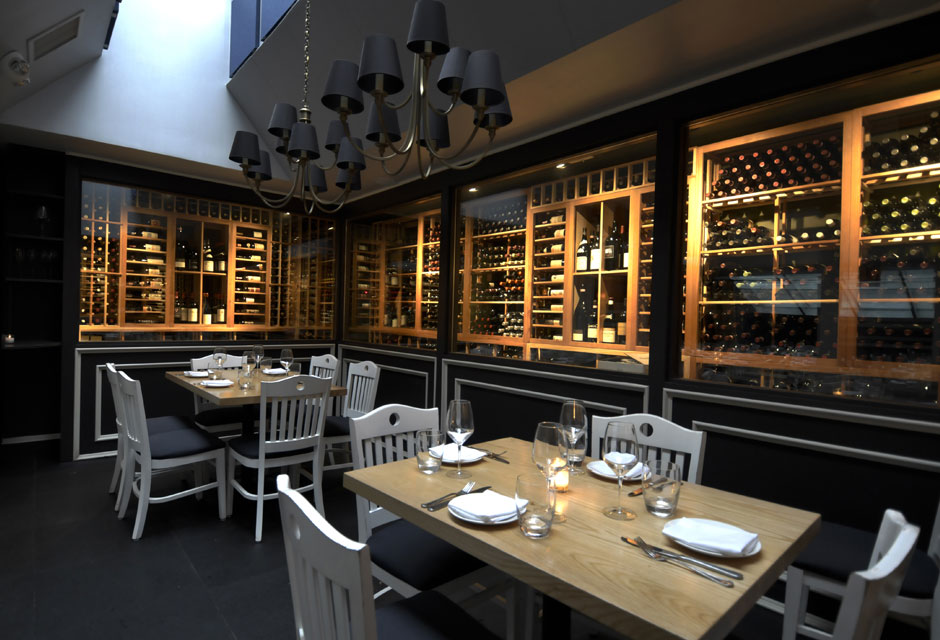 Chef Hooni Kim was born in Seoul, Korea but has resided in New York City for over 30 years. He attended the French Culinary Institute and trained at Michelin three star restaurants Daniel and Masa. Chef Hooni Kim's first restaurant, Danji, opened in the Hells Kitchen section of Manhattan in 2010. Danji received accolades from numerous publications including The New York Times, New York Magazine, Wall Street Journal, and The Village Voice. In 2012, Danji received a Michelin star, the first ever for a Korean restaurant. Sam Sifton of the New York Times also named Danji one of the Top 10 new restaurants of 2011.
L'Artusi was recently voted the #17 best restaurant in New York City by Zagats. It has also received 4.7 stars on Opentable.com & 4.5 stars on Yelp.com
Starting Bid:  $650  (Does not include gratuity)
Courtesy of August Cardona and Hooni Kim
Weekend B&B Getaway to Southold, Long Island for 3 Nights  for 3 Adult Couples
* 3 nights (friday-

sunday

) for 3 adult couples; separate bedrooms
* 2.5 hours from NYC, on the north fork of Long Island
* Surrounded by Long Island's famous wineries and bucolic farmsPristine beaches, farm stands, trendy restaurants\
* 3-minute walk to private beach
* Delicious breakfast prepared by Aiyoung & Gene (your hosts) at the hour of your choice!
* First Floor: Private room with queen size bed and bathroom
* Second Floor: One bedroom has Full size bed and the other has 2 X Twin beds
Starting bid: $1,200 
Courtesy of Aiyoung Choi & Gene Schwanke
Dinner and Wine for 6 People at Jean-Georges
Jean-Georges has received 3 stars from the Michelin Guide and 4 stars from the New York Times. 6 lucky winners will be able to luxuriate in this incredible mecca of culinary experience.
Located in the Trump Hotel Central Park, 1 Central Park West, NYC.
 Starting Bid: $1,200
Courtesy of Marja Vongerichten
Framed Original Oil on Canvas Painting "Listening – Spring Swirl 3" by Daru Jung Hyang Kim
Daru received her BFA from Seoul National University, Seoul, Korea and her MFA from Pratt Institute.   Daru is known for her large scale public installations in New York City and Seoul, Korea using glass art and mosaics.
In addition, since 1976, she had held more than 30 individual exhibitions and participated in 60 group exhibitions in the US, Korea, France and the UK.  Displaying great creativity and attention to detail, her works are richly visual, combining narrative, poetry and beauty in ways that are charming and decorative.
Juxtaposition is a central theme here; the marriage of the commonplace with the spiritual. The works combine foggy and broadly brushed mists of color with schematic depictions of flowers, geometric shapes and other simple, recognizable forms. The overall impression is of vague memories or a dream.
Starting bid: $2,500
 Listening – Spring Swirl 3, 2012
Oil on Canvas. Unframed size is: 34″x30″
Courtesy of Daru Jung Hyang Kim
2 VIP Tickets to Late Show with Stephen Colbert 
You will receive 2 VIP tickets to attend the Late Show with Stephen Colbert and you can choose the date you want to attend. As a VIP you will get priority entry and access to the best seats.
Colbert is best known for his work as a television host, writer, actor, and producer, and lest known for his charity work teaching English as a second language on Tunisian date farms. Prior to joining CBS Colbert helmed "The Colbert Report," which aired nearly 1,500 episodes and required Stephen to wear nearly 1,500 different neckties. The program received two Peabody Awards, two Grammy Awards, and several unwelcome shoulder massages.
Starting Bid: $200
Courtesy of Caroline Kim
2 VIP Tickets to Late Night with Seth Meyers 
You will receive 2 VIP tickets to attend the Late Night with Seth Meyers and you can choose the date you want to attend. As a VIP you will get priority entry and access to the best seats.
Late Night with Seth Meyers is home to A-list celebrity guests, memorable comedy and topical monologue jokes. It is hosted by Emmy Award-winning writer and one of  the 2014 TIME 100, Time magazine's 100 most influential people, Seth Meyers. Previously, Meyers served as head writer on "Saturday Night Live" and anchor on the show's wildly popular "Weekend Update."
Starting Bid: $200
Courtesy of Caroline Kim
2 Tickets to Shakespeare in the Park 
You will receive 2 tickets to attend the show of your choice:
Taming of the Shrew (May  24 – June 26):  Tony nominated director, Phyllida Lloyd, turns Shakespeare's zany comedy of the sexes The Taming the Shrew on its head, with an all-female cast and a bold new take.
Troilus and Cressida (June 19 – August 14) : Tony winning director Daniel Sullivan (Proof, Cymbeline) returns to Shakespeare in the Park with one of the Bard's most rarely produced plays, Troilus and Cressida. Both warriors and lovers play hard to get in this surprisingly modern epic about the hot blood, hot thoughts and hot deeds of the ancient Greeks.
Starting Bid: $200
Courtesy of Stephanie Lee
SILENT AUCTION ITEMS
One Week of Korean Culture Camp at Sejong Camp (2 spots available)
Sejong Camp, whose mission is to empower all Korean-American and adopted Korean-American children, has grown into one of the premier Korean culture camps in America. Campers and staff come from all around, including: New York, New Jersey, Connecticut, Pennsylvania, Maryland, New England, Virginia, Illinois, and sometimes as far away as Korea each year. With a number of culture-oriented classes, time at camp really allows our campers and staff to dive into culture and reflect on how it plays a role in our everyday lives and community. We tie both perspectives of the Korean identity – second generation and adopted – for our campers and help them develop their own narrative and find meaningful mentor relationships with our staff and leadership team.
The one-week sleepover camp offers a unique camp experience for boys and girls, age 6 through 15. – is located at Johnsonburg Presbyterian Conference Center (822 Route 519 · Johnsonburg, N.J. 07825), 1 hour 15 minutes from NYC.
The camp takes place on the week of August 20-27, 2016. The camp week begins on Sunday afternoon and ends the following Saturday mid-morning, with a showcase by the campers that highlights the many new skills they have learned and then it culminates with a celebratory family-style lunch with all family and friends invited.
During the week the campers' activities include:
* Adventure course
* Arts and Crafts
* Boating
* Culinary Arts
* Creative Writing/Thinking
* Culture
* Dance
* Self-Esteem/Identity
* Swimming Pool
* Tae Kwon Do
* Lakeside Kayaking and Canoeing
Starting Bid: $400
Value: $800
Courtesy of Sejong Camp
Phillip Lim Black Grooved Leather Medium Pashli Satchel 
* Flap front; two expandable zip gussets at front
* Lined; zip pocket at interior
* Top handles; detachable, adjustable crossbody strap with leather shoulder rest
* Brushed goldtone buckle closure
* 9.75″ height x 12.00″ width x 4.00″ depth, approximately
* 4.25″ handle drop, 24.00″ max strap drop, approximately
Starting Bid: $250
Retail Price: $895
Courtesy of Wen Zhou
5 Course Dinner & Wine for 4 People at Mokbar BK
Mokbar BK is the second restaurant in New York by Chef Esther Choi.  It will open in Brooklyn in early Fall, 2016.
The original Mokbar in Chelsea Market won the 2014 Reader's Choice "Best New Restaurant" by The Village Voice and 2015 "Best Kimchi" by Epoch Taste.
Esther Choi was hailed as a "New Rising Chef" by Food Republic, she is also a 2015 "Zagat 30 under 30" NYC Culinary Rockstar.
Starting Bid:   $200 (Tax and gratuity not included)
Courtesy of Esther Choi
Dinner for 6 People at Hanjan 
Hanjan is Chef Hooni Kim's second restaurant after Danji, located in the Flatiron District in New York. It was inspired by the joomak, an old Korean tavern that offered weary travelers good food, good drinks and a place to rest. Many of the dishes at Hanjan are meant to evoke Korean street markets that offer comfort food enjoyed by people in Korea in their everyday life. Hanjan uses meat raised with no antibiotics or growth hormones, and the fish caught wild and are not over-fished and endangered.
Starting Bid: $150 (Drinks, tax and gratuity NOT included)
Courtesy of Hooni Kim
Magnum of 2013 Pride Mountain Vineyards Cabernet Sauvignon Signed by Steve Pride
Pride Mountain Vineyards is consistently one of the top wineries in Napa Valley making highly rated, age-worthy wines. This is a Magnum bottle, which means it is equivalent to 2 bottles of wine, or 1.5 liters. It is also signed by the CEO and owner of the winery.
"Super-concentrated nose of blackberry, kirsch, moist tobacco, subtle incense and sandalwood really light up the senses. The 2013 equally delivers on the palate, with density, persistence, structure and superb concentration of flavor.  This is a prodigious wine, one of the best cabernet sauvignons I can recall us making.  The stuffing on this will allow it to age beyond any of our lifespans. Nonetheless, the considerable tannins are velvety and the wine pleasurably rolls around the mouth even at this young age (bottled in July 2015).  Classic Pride Mountain flavors of dark ripe berries, a range of baking spice nuances, cedar and mocha." – From Pride
Starting Bid: $125
Courtesy of Mingi Choi
Glenfiddich Single Malt 21 Year Reserva Rum Cask Finish
Patiently matured for 21 years on‐site at the distillery, it is an exquisite, traditional Speyside whisky, rich and ripe with Glenfiddich signature notes. But rather than bottle it, as other distillers would, Malt Master, Brian Kinsman, hand picks selected barrels and adds a sublime finishing touch.
By finishing the 21 Year Old in Caribbean rum casks it awakens the liquid, rousing it with extra exotic notes of ginger, fig, lime and banana and a vibrant spicy toffee warmth, elevating it from something great to something extraordinary.
Raised in Scotland. Roused by the Caribbean
Starting Bid: $100
Retail: $200
Courtesy of James Wohn
Skincare Consultation with Charlotte Cho & Customized Skin Care Products ($200 worth) from Soko Glam
Charlotte Cho, together with her husband, David Cho, co-founded the Korean beauty products company, Soko Glam, in 2012 to help their customers discover Korean cosmetics, beauty trends, and skin care routines. Soko Glam has been featured in major publications including The New York Times, Vogue, Allure, Into The Gloss, and more.
In addition to being a licensed esthetician, Charlotte is also the author of the book The Little Book of Skin Care.
Package includes:
* Personal skin care consultation with Charlotte
* $200 worth of customized skin care products from Soko Glam
* An autographed copy of her book.
Starting Bid: $200
Courtesy of David and Charlotte Cho
Ambrosia Korea Skin Care Set

Starting Bid: $100
Retail Value: $210
Courtesy of Ambrosia Korea
18 Holes of Golf, Lunch & Drinks at the Suburban Golf Club
18 holes of Golf, Lunch and after golf drinks for 3 people. A round of golf at Suburban Golf Club in Union, NJ for 3 people as guests of John Kwon (KoreanAmericanStory.org board member) to be used prior to October 31, 2016.  Experience includes lunch followed by 18 holes (A.W. Tillinghast design) and post round drinks. Golf carts and forecaddie included.
www.suburbangolfclub.com
Starting Bid: $200
Courtesy of John Kwon
Professional Family Portrait by Juliana Sohn

This package includes: family portrait plus candid shots (30 8X10 sized digital files, retouching on one final file, ink jet print, up to 11″X17″ in size.  The photo shoot can take place in the location of your choice, within one hour drive of NYC.
Juliana is a graduate of RISD and she was represented by The Photographer's Gallery in London for three years. Her work appeared in shows in New York, Paris, London and her work is currently part of a traveling show that has shown on all inhabited continents.
Juliana's client list includes most of the major newspapers and magazines including NY Times Magazine, New Yorker, Wall Street Journal, Martha Stewart, Real Simple, Time, Newsweek, Marie Claire, Glamour, Details, GQ, Cosmopolitan, Town and Country, House Beautiful, New York Magazine, and many others.  http://www.julianasohn.com/
Starting Bid:  $250
Courtesy of Juliana Sohn
Framed Photo of 1986 World Series Game 6 Signed by Mookie Wilson AND Bill Buckner 
This is a must have for any Mets fan.  This is a photograph (signed by Mookie Wilson AND Bill Buckner) of one of the most talked about plays in the American baseball lore when Mookie Wilson's ground ball inexplicably went through the legs of Bill Buckner in the game 6 of the 1986 World Series.
The Red Sox were just one out away from the World Series Championship in the bottom of the 10th inning.  On the 10th pitch of his at-bat, Mookie Wilson hit what looked to be a routine ground ball down the first base line. But the ball slipped through Bill Buckner's legs, scoring Ray Knight from 2nd base, giving the Mets a 6-5 victory, tying the series record to 3-3. In the seventh and deciding game of the World Series, the Mets went on to win the game 8-5.
Starting Bid:  $150
Courtesy of HJ Lee & Theresa Choh-Lee
Gift Certificate for Dinner for Two at Benjamin Steakhouse 
Dinner for two includes appetizer, entree and dessert for each guest (gratuity not included)
Valid at Benjamin Steakhouse, 52 East 41st Street, NYC only.  Short walk from Grand Central Station.
Expires on September 25th, 2016 
Starting Bid:  $125
Courtesy of Benjamin Steakhouse
Scarsdale Integrative Medicine – Functional Medicine/Nutrition Consultation
This consultation includes the diagnostic testing which includes:
Gut Health:
Food sensitivity: Blood test to figure out what foods to eat
Stool testing: Identify the root causes of your digestive discomfort
Nutritional Testing:
Precise analysis of your amino acids, organic acids, fatty acids, vitamins and minerals, heavy metal exposures, neurotransmitters and antioxidants to formulate your vitamin regimen.
Hormone Testing: 
Saliva testing to manage your menopause or andropause, adrenal fatigue and any unexplained weight gain.
Heavy Metal Toxin Testing:
Urine testing after provocation to assess exposure to heavy metal toxins.
Body Composition Analysis
http://www.scarsdaleintegrativemedicine.com/
Starting Bid: $250
Value: $500
Courtesy of Dr. Hyun Joon Lee of Scarsdale Integrative Medicine
Scarsdale Integrative Medicine – 3 Sessions of Massage Therapy or Acupuncture
Massage Therapy:
Massage therapy can be a powerful healing tool in your wellness program. Therapeutic touch and energy work, combined with acupressure, promote healing, reduce stress and help you recover from muscle injury.
Chronic pain can be managed with weekly deep tissue massage combined with trigger point work and myofascial release.
Acupressure and Shiatsu are perfect for people who are not fond of needles but need to reduce nervous energy and get rid of negative energy in knotted muscles.
Or simply enjoy the gentle and relaxing Swedish massage with long smooth strokes, kneading, and circular movements on superficial layers of muscle using massage lotion or oil.
Acupuncture:
Acupuncture involves the insertion of thin, solid metal needles into the skin to balance your Chi (energy system). Chi is believed to regulate your spiritual, emotional, mental, and physical balance.  Acupuncture helps balance your Chi and opens the flow of energy, provides pain relief and maintains or restores health to the body and mind.
Conditions we treat with Acupuncture:
Acupuncture works well for all pain relief such as neck pain, back pain, acute ankle sprains and injuries, headache, menstrual cramps and fibromyalgia.
Acupuncture can modulate your immune system to improve upper respiratory infection, asthma, sinusitis and allergy symptoms.
Acupuncture can be helpful in infertility treatment, smoking cessation, appetite suppression for weight loss and in subsiding nausea during cancer chemotherapy.
http://www.scarsdaleintegrativemedicine.com/
Starting Bid: $250
Value: $450
Courtesy of Dr. Hyun Joon Lee of Scarsdale Integrative Medicine
Scarsdale Integrative Medicine – 3 Sessions of Vitamin C IV Therapy
Vitamin drips have recently gained popularity in the media and you will find "Vitamin IV therapy – The latest Celebrity Fad" or "Vitamin drips for hangovers" easily through your search engine.
While it is true that these are helpful in energizing you and making you look younger, natural vitamins and minerals have profound medicinal benefits beyond what the media recognizes.
Intravenous drips quickly & efficiently deliver nutrients directly to where they are needed—the cells. Natural vitamins and minerals are safe and have been used in medical practices since 1950 by Dr. John Myer.
http://www.scarsdaleintegrativemedicine.com/
Starting Bid: $300
Value: $600
Courtesy of Dr. Hyun Joon Lee of Scarsdale Integrative Medicine
Eyelash Extension Service from EyeLure Boutique
Service: Eye lash extension service of 70 lash extensions per eye
Location: 580 Broadway #903, New York, NY 10012
EyeLure Boutique is an industry leader in creation of innovative eyelash extension services.
Starting Bid: $75
Value: $150
Courtesy of EyeLure Boutique
Hand Crafted Necklace by Marie & J
Product details coming soon
Starting Bid: $150
Retail Price: $280
Courtesy of Michelle Min
Hand Crafted Earrings by Michelle Lee
Product details coming soon
Starting Bid: $150
Retail Price: $280
Courtesy of Michelle Min
Hand Crafted Necklace by Michelle Lee
Hand crafted fresh water pearl necklace in blush color and with rhinestone embedded magnetic clasp.
Starting Bid: $75
Retail Price: $150
Courtesy of Michelle Lee
RAFFLE ITEM